European Study Tours is a Winner!
For the Most Original use of Travel Technology 2019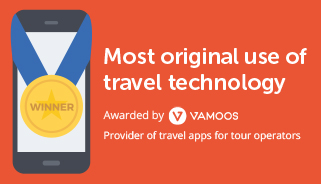 EST 's Travel App has been recognised at an awards ceremony hosted by Vamoos, the UK's leading provider of travel apps for tour operators, for the most original use of technology.
Our Travel App has been successfully integrated into our online organiser My Tour Manager to ensure that all your important documents and itinerary are at hand whilst you travel, doing away with the need for paper copies, creating a seamless end-to-end technology solution to organising and running school trips.
Our teachers and group leaders seem to like it too:
"The app was very easy to use and very accessible. Very successful trip."

Forrester High School

"Perfection throughout - all information was accurate, up to date, and clear. The app is cool!"

South Essex College

"The travel app was great, especially the maps feature. It was also really easy to use"

Greenwood Academy

"The phone APP is excellent and we used this a lot during the trip a great idea!"

National Church of England Academy

"The app was excellent, all members of staff downloaded the app and it made organising where we needed to be and when very easy. I would definitely recommend the app to anyone travelling with EST"

Ormiston Horizon Academy

"Laura was able to upload new train seat reservations whilst we were in London. If she hadn't done this we would have been sat in the wrong seats as the paper I had was out of date."

St Andrews RC High School