Latest Offers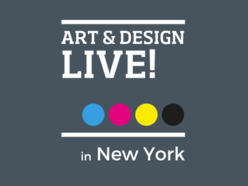 New York
Student Conference
& Event
Bring the curriculum to life and inspire your students future career in February 2020 at the prestigious MoMA, widely considered to be one of the most impressive and diverse Modern Art museums in the world. Find out more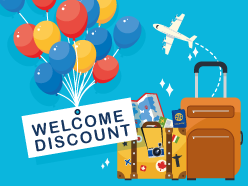 Welcome Discount for Every New Teacher
As a teacher/lecturer booking with us for the first time, you can SAVE £30pp on your next school/college trip to the USA and other long haul destinations and £10pp on UK and Europe destinations.
EXTRA! Double Your 'Welcome' Discount for February 2020 Trips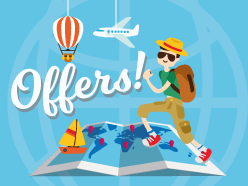 See All Offers
To view click here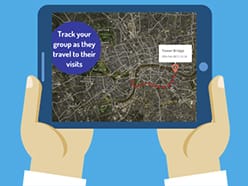 Locate My Trip Included in Every Tour
Locate My Trip is the easy, convenient way for your school to follow your group's location whilst on tour and, has been specifically designed to provide reassurance to both parents and teachers and is included as STANDARD in all our tours.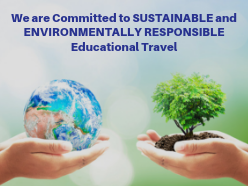 We Take Responsibility
For every school and college who take a trip with us, a Maya nut tree will be planted in Peru supporting reforestation and we pledge to offset an additional tonne of CO2 through the Brazilian Amazon deforestation project. Learn more here.
Art & Design Trips to Venice
Venice is a unique and precious repository of art. Artists of the highest calibre have left their mark all over the city and works by Venice's grand masters Titian, Tintoretto, Canaletto and Tiepolo can still be viewed in situ today. Venice also has a contemporary art scene that lives up to its glorious art history. The Peggy Guggenheim Collection of 20th-century masters has long been the city's third most visited attraction, while the Punta della Dogana, which opened in 2009, brought works by contemporary giants including Dan Flavin and Jeff Koons to the city. Add to this the tradition and spectacle of the Venice Carnival masks and Murano glass and there is much to inspire your art and design students on a tour to this remarkable city.
Curriculum Topics Key Stage 4 & 5
Art, Craft and Design
Graphic Communication
Textile Design
Three Dimensional Design
Photography
Popular itinerary
Our sample itinerary provides you with an idea of the visits you can cover during your trip. We can tailor-make an itinerary to support your specific learning outcomes.
| | Morning | Afternoon | Evening |
| --- | --- | --- | --- |
| 1 | Depart UK airport for flight to Venice | Transfer to your accommodation followed by a Guided Tour of Venice | Evening meal |
| 2 | Visit the Peggy Guggenheim | Visit to Ca'Pesaro Gallery | Evening meal in a local restaurant |
| 3 | Visit to Galleria d'Academia | Island Cruise to Murano and Burano | Evening Meal |
| 4 | Visit to Carnival Masks Workshop | Transfer to airport for return flight | Arrive in the UK |
| | |
| --- | --- |
| Morning | Depart UK airport for flight to Venice |
| Afternoon | Transfer to your accommodation followed by a Guided Tour of Venice |
| Evening | Evening meal |
| | |
| --- | --- |
| Morning | Visit the Peggy Guggenheim |
| Afternoon | Visit to Ca'Pesaro Gallery |
| Evening | Evening meal in a local restaurant |
| | |
| --- | --- |
| Morning | Visit to Galleria d'Academia |
| Afternoon | Island Cruise to Murano and Burano |
| Evening | Evening Meal |
| | |
| --- | --- |
| Morning | Visit to Carnival Masks Workshop |
| Afternoon | Transfer to airport for return flight |
| Evening | Arrive in the UK |
Retun air travel
3 nights B&B accommodation
Return airport transfers
Bespoke itinerary planning service
Free Place Ratios
Live Trip Tracking
Online trip organiser & Travel App
24/7 support whilst you are away
---
Places to Stay
Venice
This is a small sample of the available accommodation options. For expert advice on the most suitable accommodation to suit your group's specific needs speak to one of our expert Tour Consultants today.
---
Reasons to Visit
This monumental art gallery contains the world's most complete 13th- to 18th- Century art collections. These include masterpieces by the Venetian greats of the Renaissance period such as Bellini, Giorgione, Titian, Tintoretto, Veronese and more. These masterful Venetian artists not only shaped the history of Venice art, but European art.
Ca' Pesaro - International Gallery of Modern Art
The core of the collection is made up of award-winning works exhibited or purchased at the Venice Biennale in the early decades of 20th century. Along the itinerary are displayed important 19th and 20th century paintings and sculptures, including masterpieces by Klimt, Chagall, Kandinsky, as well as a rich selection of works by Italian artists and an important section of graphic art.
Peggy Guggenheim Collection
The Peggy Guggenheim Collection is the most important museum in Italy for European and American art of the first half of the 20th century. It contains works from the most famous European and American modern artists including Pablo Picasso, Salvador Dali, Jackson Pollock, and Alexander Calder, and her husband's artwork, Max Ernst. It is located in Peggy Guggenheim's former home, Palazzo Venier dei Leoni, on the Grand Canal in Venice.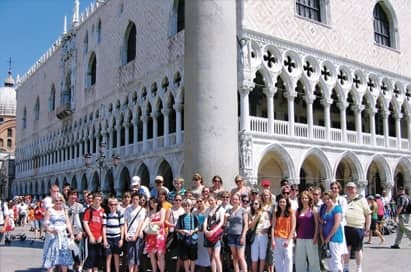 Ca d'Oro (Franchetti Gallery)
The Ca' d'Oro is one of the most famous civilian buildings of Venice. It was built for the Procuratore Marino Contarini, with gothic forms, between 1422 and 1440, by Lombard hands, headed by Matteo Raverti, and by Venetian stone-cutters, directed by Giovanni and Bartolomeo Bon. The last owner of the palace was, after different vicissitudes, the musician and collector Giorgio Franchetti, who financed its restoration (1916) and finally gave it to the State, together with its rich collection, that still is the core of the museum. The museum has been modernly reorganised between 1980 and 1984, and houses a wonderful art collection, composed by paintings of Venetian, Tuscan and Flemish school, splendid bronzes, renaissance sculptures and an interesting ceramic collection.
Vetario Art Museum (Murano)
Visit this magnificent glass museum. The museum is within Palazzo Giustiniani and houses various collections of glass works describing the history of glass making in Venice. There is an archaeological collection and a modern glass section.
The 14th-century Palazzo Rodotà houses a collection of laces from the late 19th century to the early 20th century, realized on the island, whose tradition in lace making dates back to the 15th century.
Masks have been hand crafted in Venice by artisans for 800 years. Visit one of the oldest workshops in the city where masks are still made according to Venice's authentic craftsmanship tradition. Here you will see how masks are created in their free, innovative interpretation of the world-renowned skills that 'mascareri' have passed on generation after generation.
The working environment of Mariano Fortuny is represented through precious wall-hangings, paintings, and his famous lamps. Fortuny mingled art deco and art nouveau which is wondrously apparent throughout. Visitors will enjoy gorgeous ornaments, objects, fabrics, furniture and clothing, all Fortuny originals.
---
We Make Trip Planning Easy
Day to day support and advice from our team of travel experts
Easy-to-view online tour quotation
Market-leading trip organiser portal, My Tour Manager
Free Resources and templates to help launch your trip
Email reminders to keep you on track
Free and completely personalised Travel App to access your information on the go
Locate My Trip designed to provide reassurance to parents and teachers
Risk Assessment advice so you can make an informed decision on every tour component
Teacher Inspection Visits
---
---
What You Say
We had a warm welcome at all venues but the Peggy Guggenheim was rated the best by our pupils. Also, the Scrovegni Chapel was absolutely amazing.​
Stanwell School
Excellent service and very friendly staff. Everyone had an amazing time​
Southmoor Academy
I was very impressed with the customer service...there was always somebody available to offer helpful advice.​
The King Alfred School