Latest Offers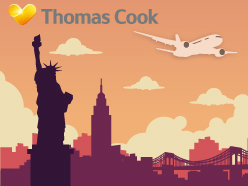 Our Exclusive Flight Deal with Thomas Cook
This exclusive flight deal means we can offer you great value for your New York trip. Prices start from ONLY £739pp including 3 nights accommodation, insurance, flights and NYC airport transfers.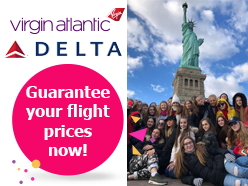 Exclusive Virgin & Delta Price Guarantee!
Book early to GUARANTEE Virgin Atlantic and Delta Air Lines fares to the USA even before they go on sale! This means your quoted tour price is GUARANTEED! See more details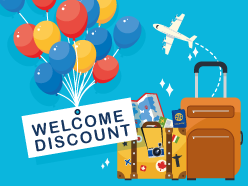 Welcome Discount for Every New Teacher
As a teacher/lecturer booking with us for the first time, you can SAVE £30pp on your next school/college trip to the USA and other long haul destinations and £10pp on UK and Europe destinations.
EXTRA! Double Your 'Welcome' Discount for February 2020 Trips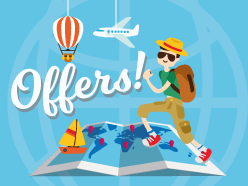 See All Offers
To view click here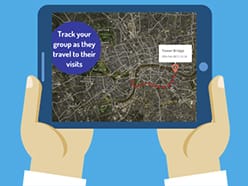 Locate My Trip Included in Every Tour
Locate My Trip is the easy, convenient way for your school to follow your group's location whilst on tour and, has been specifically designed to provide reassurance to both parents and teachers and is included as STANDARD in all our tours.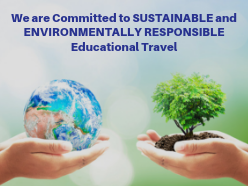 We Take Responsibility
For every school and college who take a trip with us, a Maya nut tree will be planted in Peru supporting reforestation and we pledge to offset an additional tonne of CO2 through the Brazilian Amazon deforestation project. Learn more here.
Fashion Trips to New York
New York is famous as a fashion destination and Macy's is the largest department store in the world so this is a must if you are studying fashion. You can take the Sex & the City tour; this will be by coach where you will have stop offs on the way. The Museum at the Fashion Institute of Technology houses one of the largest collections of fashion and textiles and shows the history of fashion.
Return Air Travel
3 nights Room Only Accommodation on Bedshare basis
Specialist Group Travel Insurance
Bespoke itinerary planning service
Free Place Ratios
Live Trip Tracking
Online trip organiser & Travel App
24/7 support whilst you are away
---
Places to Stay
New York
This is a small sample of the available accommodation options. For expert advice on the most suitable accommodation to suit your group's specific needs speak to one of our expert Tour Consultants today.
---
Reasons to Visit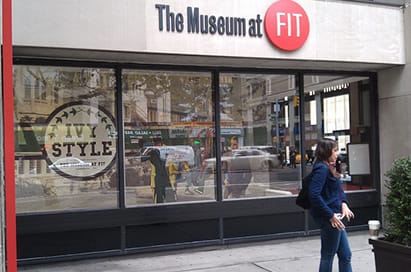 The Fashion Institute of Technology houses one of the worlds most important collections of clothing and textiles, curated by the influential fashion historian Valerie Steele. Incorporating everything from extravagant costumes to sturdy denim work clothes, the exhibits here touch on the role fashion has played in society since the beginning of the twentieth century.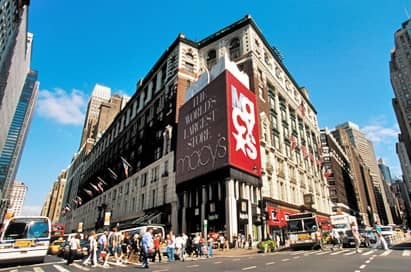 The largest department store in American offers fun, fact-filled lectures followed by a store tour. Highlights include an informative discussion of the history of Macy's from its humble beginnings in 1858 to its' status as the world's largest store with over 2 million square feet of selling space. Knowledgeable guides will teach you about merchandising concepts and visual techniques.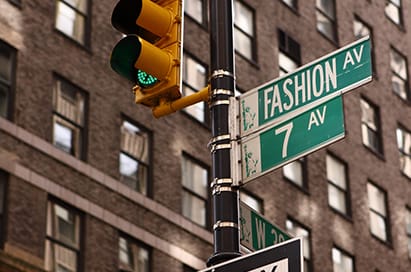 Fashion Windows Walking Tour
Explore the best of the City's fashion industry and gain unique insights into its most iconic fashion brands, including Barneys, Bergdorf Goodman, Bloomingdale's, Lord & Taylor, Louis Vuitton and Saks Fifth Avenue. See the world's most amazing window designs and fashions on display. This two-hour daily walking tour has gained recognition throughout NYC's fashion industry; it begins at Macy's in Herald Square and journeys up Fifth Avenue, passing by the Empire State Building, Bryant Park, Rockefeller Center, Central Park and more.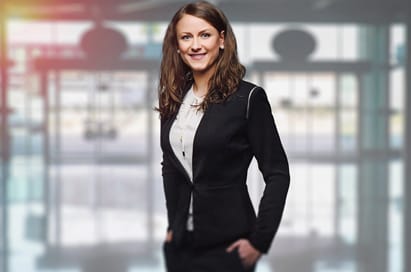 Fashion Marketing Meet and Greet
Spend 1 hour with a Fashion Marketing expert from one of the leading fashion publications based in NYC. Learn the business side of Fashion as it relates the creative side to the trends and styles of the current market. Learn the processes to have a career in Fashion marketing by acquiring vital information and develop networks in the field. Enjoy talk back sessions with leading executives in the business and their team.
---
We Make Trip Planning Easy
Day to day support and advice from our team of travel experts
Easy-to-view online tour quotation
Market-leading trip organiser portal, My Tour Manager
Free Resources and templates to help launch your trip
Email reminders to keep you on track
Free and completely personalised Travel App to access your information on the go
Locate My Trip designed to provide reassurance to parents and teachers
Risk Assessment advice so you can make an informed decision on every tour component
Teacher Inspection Visits
---
---
What you say
We met the fashion expert, she was very inspiring, the group really enjoyed it.
Rye Studio School
I have now used European study tours 4 times and I personally wouldn't use anyone else...excellent service!
Darlington College
Thank you for your professionalism, flexibility, time and support which made the trip such a success!
Cathedral Academy
Really positive and helpful all the way through the booking and planning process - always on hand and really personable.
Melksham Oak Community School