Latest Offers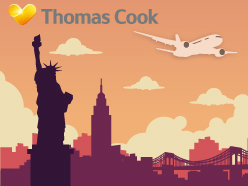 Our Exclusive Flight Deal with Thomas Cook
This exclusive flight deal means we can offer you great value for your New York trip. Prices start from ONLY £739pp including 3 nights accommodation, insurance, flights and NYC airport transfers.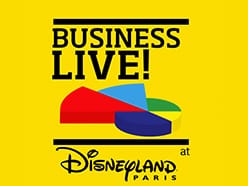 Student Conference
& Event
from ONLY £249!
Our immersive learning experience in March 2020 includes all this….
Travel, 2 nts accommodation & insurance
Conference & workbook
Park Hopper ticket
Event team services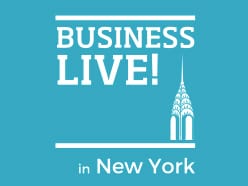 New York
Student Conference
& Event
Bring the curriculum to life and inspire your students future career in February 2020. Find out more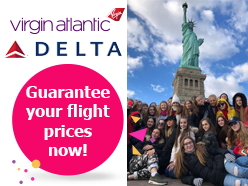 Exclusive Virgin & Delta Price Guarantee!
Book early to GUARANTEE Virgin Atlantic and Delta Air Lines fares to the USA even before they go on sale! This means your quoted tour price is GUARANTEED! See more details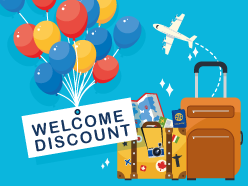 Welcome Discount for Every New Teacher
As a teacher/lecturer booking with us for the first time, you can SAVE £30pp on your next school/college trip to the USA and other long haul destinations and £10pp on UK and Europe destinations.
EXTRA! Double Your 'Welcome' Discount for February 2020 Trips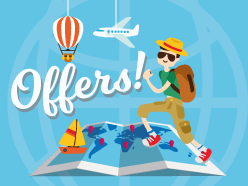 See All Offers
To view click here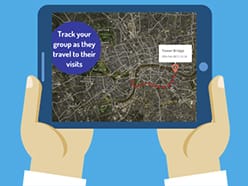 Locate My Trip Included in Every Tour
Locate My Trip is the easy, convenient way for your school to follow your group's location whilst on tour and, has been specifically designed to provide reassurance to both parents and teachers and is included as STANDARD in all our tours.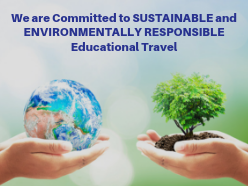 We Take Responsibility
For every school and college who take a trip with us, a Maya nut tree will be planted in Peru supporting reforestation and we pledge to offset an additional tonne of CO2 through the Brazilian Amazon deforestation project. Learn more here.
Business & Economics Trips to New York
From a Dutch trading post to a global financial centre New York has always had business and commerce at its very core. Home to Wall Street, the world's largest stock market, and the iconic NASDAQ building on Times Square, New York offers business students the chance to experience a dynamic city at the heart of the global economy.
We are proud to offer everything you need for the perfect Business Studies trip to New York. Choose from our range of study visits which will develop your students' knowledge and give them a wealth of personal experience. As one of the world's biggest economic centres, New York is a winning destination for introducing young minds to the buzz of the modern business world.
Curriculum Topics Key Stage 4 & 5
Understanding the nature and purpose of Business
Understanding management, leadership and decision making
Decision making to improve marketing performance
Decision making to improve human resource performance
International trade and the global economy
Popular itinerary
Our sample itinerary provides you with an idea of the visits you can cover during your trip. We can tailor-make an itinerary to support your specific learning outcomes.
Morning
Afternoon
Evening
1
Check in to UK airport for flight to New York
Arrive and transfer to your accommodation
Visit to Empire State Building
2
Guided Walking Tour of Financial District
Visit to the Federal Reserve Bank
Tickets to see a Sports Fixture or Broadway Show
3
Business visit to Macy's Department Store
Circle Line Sightseeing Cruise
Evening meal in a local restaurant
4
Business presentation at Madame Tussauds
Transfer to New York airport for return flight
Overnight flight back to UK
5
Arrive UK Airport, onward return travel to school
| | |
| --- | --- |
| Morning | Check in to UK airport for flight to New York |
| Afternoon | Arrive and transfer to your accommodation |
| Evening | Visit to Empire State Building |
| | |
| --- | --- |
| Morning | Guided Walking Tour of Financial District |
| Afternoon | Visit to the Federal Reserve Bank |
| Evening | Tickets to see a Sports Fixture or Broadway Show |
| | |
| --- | --- |
| Morning | Business visit to Macy's Department Store |
| Afternoon | Circle Line Sightseeing Cruise |
| Evening | Evening meal in a local restaurant |
| | |
| --- | --- |
| Morning | Business presentation at Madame Tussauds |
| Afternoon | Transfer to New York airport for return flight |
| Evening | Overnight flight back to UK |
Morning
Arrive UK Airport, onward return travel to school
Afternoon
Evening
Return air travel
3 nights room only accommodation on bed-share basis
Return aiport transfers
Group travel insurance
Bespoke itinerary planning service
Free Place Ratios
Live Trip Tracking
Online trip organiser & Travel App
24/7 support whilst you are away
---
Places to Stay
New York
This is a small sample of the available accommodation options. For expert advice on the most suitable accommodation to suit your group's specific needs speak to one of our expert Tour Consultants today.
---
Reasons to Visit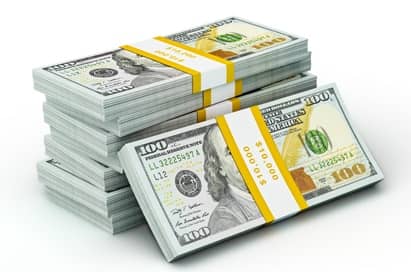 Museum of American Finance
The Museum of American Finance is the nation's only public museum that is wholly dedicated to America's finances and financial history. It is located in the historic former headquarters of the Bank of New York on Wall Street, which epitomises the financial district in America.
The museum is an affiliate of the Smithsonian Institution, offering a range of interactive permanent exhibitions on the financial markets, money, banking, entrepreneurship and Alexander Hamilton. The museum also runs classroom workshops on a variety of themes e.g. Banking in America.
Based on the Museums "Banking in America" exhibit students will understand why banks today are safe places to deposit money, how banks earn profits, why banks are important to the overall US economy and what role the Federal Reserve plays in the banking system.
There is also a range of topical rotating exhibits such as 'Tracking the Credit Crisis' and 'Scandal: Financial Crime, Chicanery and Corruption that Rocked America'. These exhibits and classroom sessions offer interactive learning to students and a great insight into the American Financial systems in the heart of the financial district.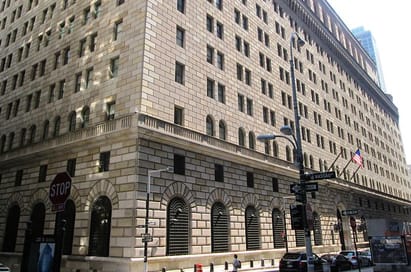 Federal Reserve Bank of New York
The Federal Reserve Bank of New York is one of the twelve regional Reserve banks in the Federal Reserve System and is located in the heart of the Financial District. The Federal Reserve Bank of New York boasts the largest depository gold reserve found anywhere in the world, larger than even Fort Knox, containing 7,000 tons of gold.
The fortress like building is quite the sceptical, with the vault containing gold located five stories below street level. The guided tour explains the central banking functions that the Federal Reserve System performs and shows a video on cash processing and the gold vault. These bookings must be made directly.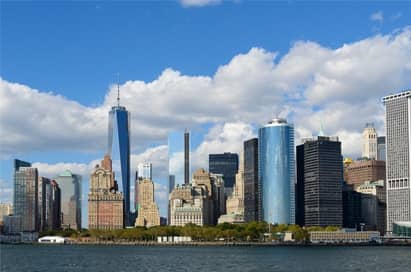 Walking Tour of Financial District
A guided walking tour of Lower Manhattan gives students the opportunity to explore the historic and financial heart of New York. The tour delves into the world's premier financial centre and traces the development of Wall Street into the financial powerhouse it became.
The 90 minute tour leads the students through the financial districts history. It's about Wall Street and the financial history that explains how the stock market works.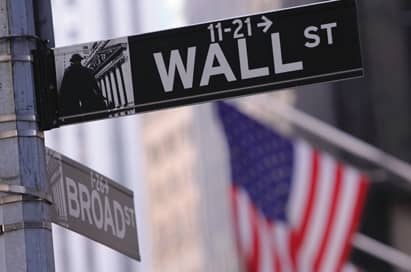 Wall Street Business Workshops
Designed to support AS and A-level Business Studies and help students to develop the skills and knowledge to think critically and analyse information our Wall Street Workshops are available on the following topics: Local and International Business, Meet the Business Finance Professional, International Business and Trade, Business and Technology, Panics, Crashes, and the Financial Crisis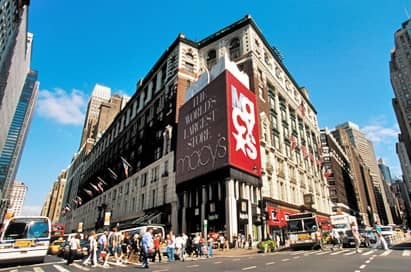 The largest department store in America offers a lecture and store tour for student groups. Highlights include a discussion of the history of Macy's and knowledgeable guides will explain merchandising concepts, visual techniques and facts about the historic Herald Square location. Tours can be customised to include lunch, an informal fashion show, or a Clinique skin care and make up seminar.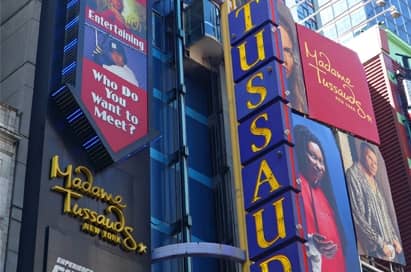 Madame Tussauds Educational Seminar
Madame Tussauds is the world famous wax attraction, located in the heart of Times Square; Madame Tussauds has over 225 incredible life-like stars and icons. These stars range from Marilyn Monroe to P Diddy, spanning every generation. They have multiple sites across the world and is a unique business concept spanning hundreds of years, with Madame Tussaud setting up her first museum in Baker Street London in 1835.
The Workshops offered to students are tailored to those studying business studies. Students are given a 45-minute presentation by key members of staff, followed by a 15 minute Q&A session. The presentation can focus on specific topics including marketing or customer service and is followed by a self-guided tour of Madame Tussauds.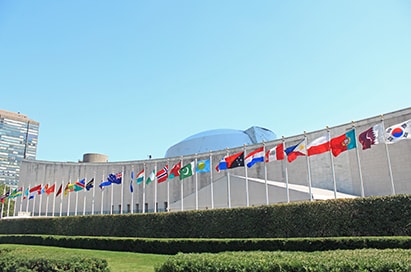 The United Nations is an international organisation founded in 1945 following the Second World War, and is currently made up of 193 Member States. The power that is vested in its Charter, the UN can take actions on the issues confronting humanity in the 21st century, such as peace and security, climate change, sustainable development, human rights, disarmament, terrorism, humanitarian and health emergencies, gender quality, governance, food production, and more.
Guided Tours of United Nations Headquarters include an explanation of the aims, structure and activities of the Organisation, as well as a description of the works of art and architecture featured in and around the building. The guided tour covers the General Assembly Hall, the Security Council Chamber, the Trusteeship Council Chamber and the Economic and Social Council Chamber.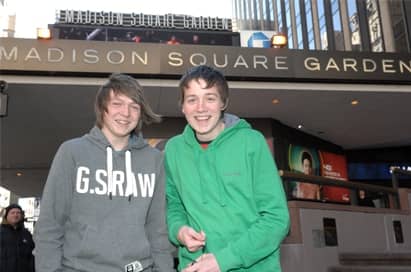 Madison Square Garden Educational Tour
Explore exclusive VIP areas of the state-of-the-art arena, discover the spectacular Chase Bridges, get the inside scoop on all your favorite players when you explore the Knicks and Rangers locker rooms, and view the arena like never before. The Educational Tour includes a meet and greet with a member of the corporate or production team who will talk about their background and hold a Q&A session.
---
We Make Trip Planning Easy
Day to day support and advice from our team of travel experts
Easy-to-view online tour quotation
Market-leading trip organiser portal, My Tour Manager
Free Resources and templates to help launch your trip
Email reminders to keep you on track
Free and completely personalised Travel App to access your information on the go
Locate My Trip designed to provide reassurance to parents and teachers
Risk Assessment advice so you can make an informed decision on every tour component
Teacher Inspection Visits
---
---
What You Say
Shannon was excellent as a Tour Planner. Nothing was a problem and she responded to all my emails very quickly. Macy tour - excellent. The guide was very funny and related well with our group. Good informative tour.
Forrester High School​
The service we received was outstanding. The organisation and smooth running of the trip was exceptional...Taking 43 kids to NYC is no easy task but EST definitely helped to make the process smooth and ensured the students had the time of their life.
St Aidans CE High School
The whole process from the initial consultation to the final trip was outstanding. The trip was perfect for the students and provided them with a trip of a life time. The walking tour of the financial district was awesome and highly recommended we learnt so much.
Gateacre School​
The walking tour of the financial district was really good. The tour guide was knowledgeable and was helpful to all the students
William Lovell Church of England Academy​
The tour of the Federal Reserve in New York was excellent - really interesting!
Newstead Wood School​
I have now used European study tours 4 times and I personally wouldn't use anyone else...excellent service!
Darlington College​
Thank you for your professionalism, flexibility, time and support which made the trip such a success!
Cathedral Academy
Really positive and helpful all the way through the booking and planning process - always on hand and really personable.
Melksham Oak Community School