Top Tips From Learning Outside The Classroom (LOtC)
What is LOtC?
Learning Outside the Classroom (LOtC) is the use of places other than the classroom for teaching and learning. It is about getting children and young people out and about, providing them with challenging, exciting and different experiences to help them learn. Here are a few tips from nominees of the awards for Outstanding Contribution to LOtC. Click here to read the full article.
"Being passionate about what you are trying to educate about makes all the difference to me. There are lots of individuals and organisations who can really help with specialist skills and knowledge and most importantly inspiration" Ellie Henderson, Education Centre Manager for Anglian Water's Chelmsford Water Recycling Centre
"Take any subject outside, whether it is for five minutes or five hours. Make it fun and show them that you are passionate about it. You will have a great experience learning together and they will remember it for a long time." Tania Orgill, Director of PlayWood Forest Schools

"Don't be afraid, LOtC is very enjoyable experience for teachers as well as children. Particularly do not be afraid to go on visits if you have a class that can demonstrate challenging behaviour. You will be astounded at the difference in their behaviour when you take them into a different environment." Catherine Talbot-Landers is LOtC and Art Subject Lead at the University of Edge Hill

"My mantra for planning LOtC is to think about P's and Q's: Purpose; Place; People and Pedagogy." Sue Waite, Professor of Education at the University of Plymouth

"Get out with the kids and do things that teach them about the things they see every day but don't see." Leila Atkins is Learning Outside the Classroom Co-ordinator at Castle Wood School in Coventry

"There's nothing like getting 'hands on' - just talking to children loses their concentration. If they're making seed bombs, pony grooming or bottle-feeding lambs, it's much easier to teach husbandry of the animals and how we look after and feed them." Nick Hastings is Head Stockperson at Walby Farm Park

"Children are naturally inquisitive and when you let the children lead the learning, it is a fantastic experience for all." Stephanie Thorlby, Outdoor Instructor at Sayers Croft

"Children who have developed the confidence, the enthusiasm, spirit of enquiry, the breadth and all the other attributes that learning outside the classroom confers are far more likely to achieve than those whose sole learning experience is from a desk in front of a whiteboard." Stephanie Thorlby, Outdoor Instructor at Sayers Croft
So what are you waiting for? Start Learning Outside the Classroom!
European Study Tours holds a Learning Outside the Classroom Quality Badge, we are also an Assured Member of the School Travel Forum (STF) and in booking with us you can book your trip in confidence, meet your due diligence and reduce the amount of External Provider paperwork, meaning more time to enjoy your trip with your students!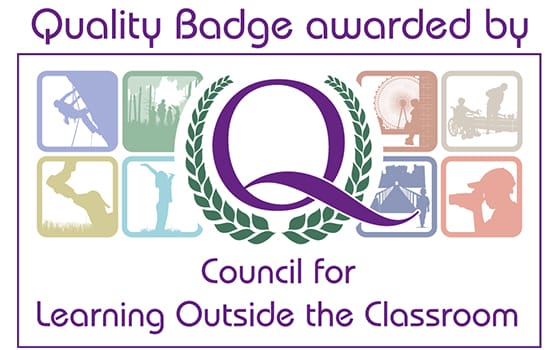 Contact us today for your personalised quote on 0330 838 4120 or online Request a Quote and let us help you plan your perfect trip!